TR Box Design

Rules
1. Name of your card company (must be original)
2. What superstar (who isnt currently signed to a contract with Topps, Upper Deck or Fleer)you will use to promote your product, in each sport. Again you cannot use anyone already signed to the 3 leading card manuafactors
3. Design me one product. You choose the sport. I want you to design the set with sketches. I want to see a example of your base card design, with sketch or example, same with your insert design, rookie,gameused and auto designs, if indeed you are putting these cards in your product. Its up to you if you have gameused , rookies, autos or etc in your product. You make the final call.
I dont care if you hand sketch the cards, then scan them, if you use photo workshop or hire a real artist. But only the most original work will be picked as the winner.
I want a box design of your product
If you do included gameused or autos, i want to know who will be in the set.
I also want to know what your selling price point will be. Dont create a wonderful product with MJ and Kobe autos in each box, then tell me you are going to sell the box for 50.00! I want some real reseach done. And i want a selling price point that makes sense.
Tell me how many base cards in the set, same with rookies, and if there are any parallel sets.
Summary Then a brief summary about your product, pull ratio, price, Sport Star you signed to market your product (fantasy of course), income, age group you are marketing, and etc
Here is my 2 Cents...
Company: Gametime Cards INC.
Set: Gametime
Company Spokesperson(starplayer): Jason Richardson
Box: 20packs PLUS Box Topper
4 cards per pack + "fake" card prevent "pack feeling"
$105.99/box
$5.49/pack
175 card base set with 25 serial numbered Rookies (total base cards-200)
Rookies #d to 1500 with first 300 signed
Base Parallel "Stars" #d to 250 (unsigned Rookies)
INSERTS
Rock Solid 1:3
10 cards that feature players that have an all-around solid game
Time Warp 1:10
10 cards that feature some players that have been traded, cards show them in their
original team to their current team.
Hardcourt Heroes 1:15
Hardcourt Heroes Duels 1:24
10 cards that have players that have or can take over a game at
anytime to help their teams win.
GAME USED/AUTOGRAPHS
Nothin' But Net #d to 200
12 cards that have acrylic front and backs and feature a LARGE peice of GameUsed Net
in between,show stats of the pictured player from that game.
Players list:
Jason Richardson
Allen Iverson
Shawn Marion
John Stockton
Elton Brand
Paul Pierce
Dirk Nowitzki
Tracy McGrady
Kevin garnett
Jason Kidd
Karl Malone
Darius Miles
Hardcourt Heroes Floor card 1:12
Hardcourt Heroes Duel Floor cards 1:48
15 each cards that feature game used floor
Jason Richardson Stomile Swift
Kevin garnett Kwame Brown
Scottie Pippen Baron davis
Elton Brand Latrell Sprewell
Pau Gasol Chris Webber
Allen Iverson John Stockton
Tracy McGrady Kenyon Martin
Jason Kidd Ray Allen
Paul Pierce Grant Hill
Antoine Walker Steve nash
Karl Malone Jerry Stackhouse
Dirk Nowitzki Steve Francis
Michael Finley Reggie Miller
Shawn Marion Allen houston
Shane Battier Mike Bibby
Off Court Sigs (autograph cards) Varied; #d no less than 25 and no more than 750
15 Autograph cards that show NBA players doing what they like to do
off the basketball court.
Jason Richardson
Tracy McGrady
Chris Webber
Ray Allen
Morris Peterson
Darius Miles
Kevin Garnett
Baron davis
Paul Pierce
Andre Miller
Antawn Jamison
Gilbert Arenas
Jermain o'neal
Mike Bibby
Shawn Marion
Autograph/Ball cards #d to 75
10 autograph/basketball cards that feature an Authentic autograph along with
a peice of game used basketball.
Jason richardson
Jason Kidd
Kevin garnett
Tracy McGrady
Baron davis
Shareef Abdur-Rahim
Paul Pierce
Shawn Marion
Dirk Nowitzki
jerry Stackhouse
BOX TOPPER
Box Topper Jersey card ; 15 cards
Box Topper XL Rising Stars Jersey cards #d to 100; 15 cards
Box toppers focus on the young stars of the NBA
"Xtra Large"(XL) Box toppers show a BIG swatch of jersey
Jason Richardson
Elton Brand
Kevin Garnett
Karl Malone
Allen Iverson
Darius Miles
Jason Kidd
Tracy McGrady
Baron Davis
Dirk Nowtizki
Yao Ming
Amare Stoudemire
Caron Butler
Drew Gooden
Dejuan Wagner
EXCLUSIVE Jason Richardson Personalized Collections
Redemption cards (10 available)
When a person redeems one of these EXCLUSIVE "Personalized Collections" cards
will receive 1(one) Autographed NBA Basketball,
1(one) Autographed Jersey,
1(one) Autographed 8x10 picture
and 1(one) Game worn article of clothing that Jason Richardson
has worn during an NBA game.
These item will be "personalized" to YOU from him. ~For Ex. "To Jack, thanks
for being a fan, Jason Richardson."
~2 Gameused/autos per box PLUS Jersey Box Topper
~2 Rookies per box
on average
Box Design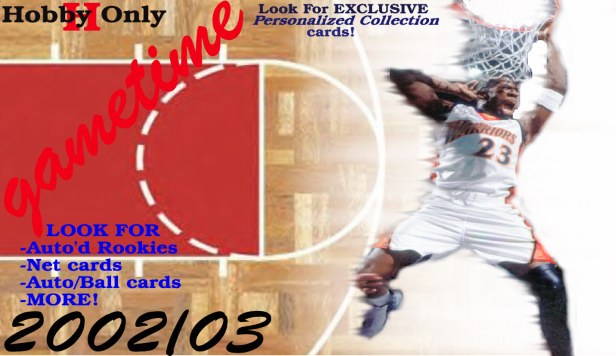 Base Card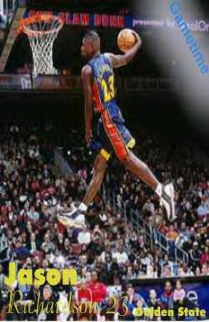 Base card back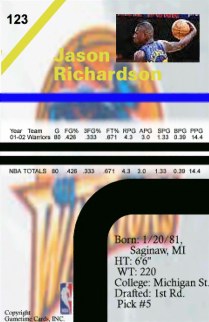 Rookie card
Rookie 1st 300 Autographed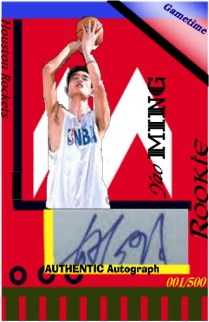 INSERTS
Rock Solid
Hardcourt Heroes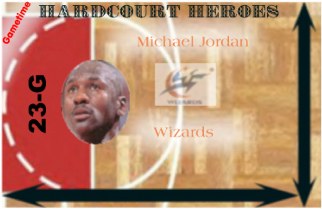 Hardcourt Heroes Duels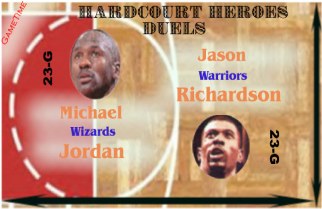 Time Warp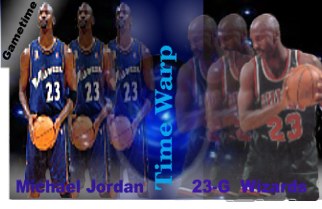 Game-Used/ Autographs
Nothin' But Net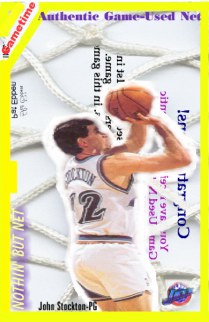 Nothin' But Net Back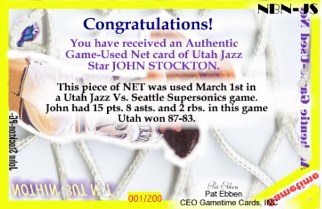 Hardcourt Heroes Floor card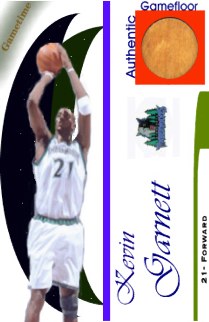 Hardcourt heroes Duel
Off Court Sigs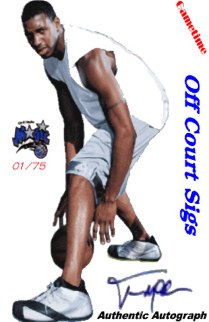 Auto/ball card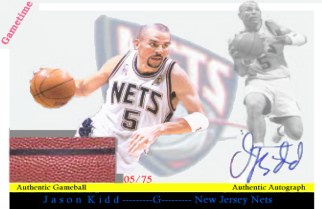 Box Toppers
Rising Stars Jersey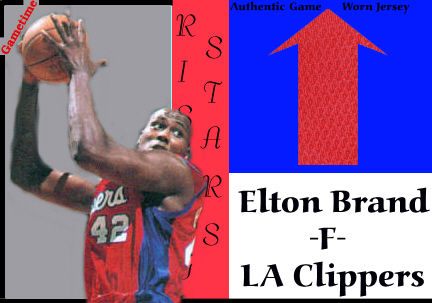 Rising Stars XL Jersey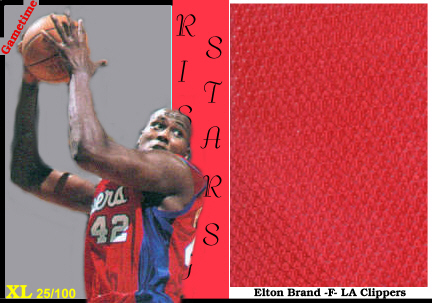 Hobby Exclusive Card
Personalized Collections