Welcome To Ebbs Collections!
|
home


Personal Collection

Baseball autographs
2004 Donruss Timelines Rollie Fingers Call to the Hall Blue autograph "34"CH-23
2003 Donruss Signature Dennis Eckersley Legends of Summer Notations w/"92 MVP" LS-11 #d 228/250
2004 Sweet Spot Classics BUY BACK (SP Auth.) Cal Ripken jr autograph #d 03/45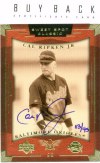 2003 Topps Retired Signature Edition Joe Rudi autograph TA-JRU
2003 Topps Finest Finest Moments Lou Brock autograph
2002 Upper Deck World Series Heroes Patch Collection Signatures Tom Seaver S-WS73

1999 Just PV Barry Zito Die Cut #d 175/200
Football autographs
2004 Prime Signatures Proof Sonny Jurgensen autograph 100 #d 056/150
2003 Leaf Limited MONIKERS John Riggins Auto/jersey (red) M-8 #d 06/25

2003 Playoff Hogg Heaven "Pig Pens" Sonny Jurgensen autograph pp-30 #d 074/141
2003 Skybox LE Patrick Ramsey Artist Proof autograph(from fleer designer) 14 #d 30/50
2003 SPx Supreme Signatures Rod Gardner autograph ss-rg
2003 Sp Signature Edition Rod Gardner autograph black ink RG
2003 Sage Hit Taylor jacobs A6
2003 Sage Hit Taylor Jacobs GOLD auto A6 #D 222/250
2003 Topps Total Signatures Ladell Betts TS-LB
2002 Sage Hit Ladell Betts autograph H45
2002 Sage Hit Cliff Russell autograph h31
2002 Topps Pristine Cliff Russell
2002 Press Pass JE Cliff Russell
2001 Press Pass Rod Gardner autograph
2001 Donruss Classics Significant Signatures Joe Thiesmann SP 198
2000 Pacific Aurora Stephen Davis Authentic autograph #147
1999 UD Legends Epic Signatues Doug Willams DW
1999 Skybox Autographics Stephen Alexander
1998 Collector's Edge Masters Stephen Davis Autograph #120 of 500
1998 Skybox Autographics Jamie Asher
1997 Upper Deck Legends Charley Taylor autograph #AL-14
1974 Topps Dave Robinson auto (in person)

Golf
2002 SP Gameused Chi Chi Rodriguez Front 9 Fabrics Auto/shirt(3 color) f9s-cr

Football Game/Event Used/Worn
2004 Prestige Changing Stripes Stephen Davis Dual Jerseys (red/white) CS-10 #d 223/224
2004 Prestige League Leaders L Coles/T Holt Dual Jerseys (red/blue) LL-15 #d 195/250
2004 Donruss Classics Dress Code LaVar Arrington Jersey(white) DC-21 #d 219/250
2004 Fleer Genuine Genuine Article RED Clinton Portis jersey (orange) ga-cp
2004 Topps Pro Bowl Jersey Lavar Arrington Jersey (blue) pb-la
2004 SP Gameused Lavar Arrington Jersey (white) AP-LA
2003 Leaf Certified Freshman Fabric Taylor Jacobs jersey (red) ff-167 #d 1031/1250
2003 Leaf Limited MONIKERS John Riggins Auto/jersey (red) M-8 #d 06/25
2003 Leaf Certified FOTG Sonny Jurgensen logo jersey (red) FG-52 #d 06/25
2003 Leaf R&S Initial Steps Taylor Jacobs 2 Color Shoe (white/Red) W/Stitching #d14/100
2003 UD Standing O Standing O Swatches Patrick Ramsey jersey (red) SW-PR
2003 UD Finite Finite Jerseys Taylor Jacobs (red) FJ-TA
2003 Playoff Honors Jersey Tandems Dual Jerseys Rex Grossman(black)/Taylor Jacobs (red) JT-8
2003 Playoff Honors Rookie Gems Taylor Jacobs jersey (red)225 #d 608/700
2003 Donruss Classics Dress Code Rod Gardner 2 color Patch (yellow/red) DC-13 #d 064/550
2003 Donruss Elite Throwback Threads John Riggins jersey (red) TT-18 #d 157/250
2003 Donruss Elite Back to the Future Art Monk Jersey (white) BF-6 #D 041/250
2003 Bowman Fabric of the Future Taylor Jacobs jersey (red) fa-tj
2002 Fleer Hot Prospects Future Swatch Cliff Russell Jersey (white) 111 #d 0274/1000
2002 Fleer Genuine Genuine Article Stephen Davis Jersey (white) GA-SD #d295/500
2002 UD XL Super Swatch Stephen Alexander jersey (3 color-white,red,yellow) SSSA #d 262/400
2002 UD Graded Clinton Portis Jersey (blue) CP-500 #D 184/350
2002 UD Authentics Rod Gardner All Star Authentics Jersey #AA-RG
2002 UD Graded Stephen Davis jersey (red) G2-SD #d 036/100
2002 Titanium Jaqcuez Green Jersey/Ladell betts rc 173 #d 219/250
2002 Absolute Memorabilia Rookie Premiere Materials Cliff Russell Dual Jersey/Ball #225 #d 072/825
2002 Playoff Honors Rookies Quads Patrick Ramsey(3 color w/holes)/Cliff Russell(3 color)/Antonio Bryant/Roy williams(holes) RQ-17 #d 220/500
2002 Playoff Honors Rookie Tandems Patrick Ramsey/Cliff Russell(writing) RT-3
2002 Leaf Certified Freshman Fabric Patrick Ramsey Mirror Red 3 Color Ball #122 009/250
2002 Leaf Certified Mirror Blue Freshman Fabric Cliff Russell event worn helmet (red) 125 #d 062/100
2002 Bowman's Best Patrick Ramsey Rc Jersey #107 (white)
2002 Bowman's Best Ledell Bets Rc Jersey BLUE parellel #94 #d 041/499 (white)
2001 Stadium Club Pro Bowl jerseys Champ Bailey (white) SP-CB
2001 Titanium Post Season Rod Gardner Jersey (red) 99
2001 Fleer Legacy 1,000 yard Club Stephan davis/Warrick Dunn Dual jersey (red,red) SD-WD #d 121/400
2001 Ex Constant Threads Brad Johnson jersey (red-rubber like)
2001 Ex Behind the Numbers Stephen Davis Jersey (red) #D 662/752
2001 Leaf Certified Fabric of the Game Art Monk jersey (red-rubber) FG-1 #D 21/81
2001 Playoff honors Rookie Tandems Dual Jersey Sage Rosenfels (red)/Rod Gardner(red) RT-6
2001 UD Legends Timeless Tributes Darrell Green Jersey (white) TT-DG
2001 UD Legends Past Patterns Sonny Jurgenson jersey (red) PP-SJ
2001 Ud Ovation Rookie Gear Rod Gardner jersey (red) r-rg
2001 Private Stock Titanium Sage Rosenfels rc 2 color patch (gold,white) 208 #d 15/75
2001 Topps Finest Rod Gardner Rookie Premiere jersey (red) RPJ-RG
2001 SP Authentic Stat Jersey Stephen Davis 3 color (white,gold,red) SP-SD #d 0057/1318
2001 Bowman Fred Smoot Senior Bowl 2 color jersey (blue,white) bj-fs
Baseball Game/Event Used/Worn
2004 Donruss Timelines Boys of Summer Don Mattingly Jacket (blue) 12
2004 Donruss Mike Schmidt Jersey Kings STUDIO SERIES jersey (white w/red pinstripe) JK-12 #d 24/25
2004 Topps Tribute HOF Cut Signature Edition Willie Mays jersey (white) tr-wm5
2004 Topps Tribute HOF Cut Signature Edition Jackie Robinson bat tr-jr
2004 Topps Tribute HOF Cut signature Edition Ty Cobb bat Tr-tcb
2004 Fleer inScribed Dennis Eckersley Names of the Game jersey (white) NGJ-DE
2003 Topps Tribute WSE Team Tribute Dennis Eckersley/Jose Canseco dual jersey (green/white) TTR-EC #d 234/275
2002/2003 UD Super Stars Legendary Leaders Mark McGwire/Kurt Warner Dual Jersey (white/grey) KW/MM-L
2002 Fleer Fall Classics October Legends Dual Jersey Rolly Fingers(white/yellow/blue), Dennis Eckersley (yellow)
2002 Topps Like Father Like Son Relics Bob Boone/Aaron Boone/Bret Boone (jersey/bat/bat) fs-boo
2002 Topps Like Father Like Son Relics Bobby Bonds/Barry Bonds jerseys (grey/white) fs-BON
2002 Topps Like Father Like Son Yogi Berra/Dale Berra Jerseys (white/blue,white) fs-be X2

2002 UD Sweet Spot Rollie Fingers Jersey (light blue) J-RF
2001 sp Legendary Cuts Joe Dimaggio Game bat b-jd

Basketball
2001 Fleer Greats of the Game James Worthy Autograph

My Rickey Henderson GU/Autograph collection
2001 Studio Ricky Henderson (A's) Diamond Collection jersey DC-17
2002 Donruss Originals RICKEY HENDERSON "NIFTY FIFTY" Combo Bat/jersey Red Sox NF-45 card is #d 35/50
2002 Donruss Originals Rickey Henderson Nifty Fifty Bat Mariners NF-15 #d 28/50
2002 Topps T206 Rickey henderson Bat TR-RH
2002 Topps Reserve Rickey Henderson Bat TRB-RH
2002 Topps Chrome Summer School Top of the Order Rickey Henderson GU Bat refractor toc-rh
2002 Playoff Piece of the Game RICKEY HENDERSON bat POG-71 #'d 100/100
2002 Studio Leather and Lumber R henderson artist proof ball/bat #d 24/50 jersey # !!!
2002 Leaf Certified Rickey Henderson Jersey(black) FG 134 #d 27/100
2002 Donruss Diamond Kings RICKEY HENDERSON jersey DC-78 card #'d 139/250
2003 Topps "PRIME CUTS RELIC" RICKEY HENDERSON bat card, card is #d 14/50
2003 Topps Finest Rickey Henderson Bat FRB-RH
2003 Topps Tribute Contemporary Collection Memorable Materials Jersey MEM-RH
2003 Topps Chrome Record Breakers Rickey Henderson Bat crbr-rh
2003 Bazooka Blasts Ricky Henderson authentic game used bat card #BB-RH
2003 Donruss Elite RICKEY HENDERSON DUAL Throwback Threads GU JERSEY/Hat TT-54 #D 104 /125
2003 Donruss Elite Throwback Threads TT-25 jersey (black) #d 217/250
2003 Donruss Elite Rickey Henderson jersey Throwback Threads Tt-24 #d 078/250
2003 Donruss Elite Rickey Henderson Back to Back Jacks Bat BB17 #d 120/250
2003 Donruss Elite All time Career Best Rickey Henderson Bat AT-33 #d 157/400
2003 Donruss Classics Dress Code... Jersey/Hat DC-30 #d 250/250
2003 Leaf Certified Fabric Of The Game Jersey FG-123 #d 02/50
2003 Bowman Heritage Diamond Cuts Bat DC-RH
2004 Prestige Changing Stripes dual jersey (green/grey) #CS-1 card is #d 066/150
2004 Donruss Diamond Kings Rickey Henderson #150 dual gu Jersey/bat #d 25/50
2004 Donruss Timelines Boys of Summer jersey Prime (blue) 21 #d 081/100
2004 Donruss World Series jersey WS-55 #d 072/100
2004 Donruss Timeless Treasures "Milestone Materials" MM-6 #d 031/100
2004 Donruss Timeless Treasures "Home/Away Gamers" dual jersey ha-9 #d34/50
2004 Donruss Throwback Threads Century Collecton cc-74 #d 134/250
2004 Playoff Absolute Memorabilia Tools of the Trade Quad Hat/jersey/bat/jersey #tt-123 #d 43/50
2004 Playoff ABsolute Memorabilia Tools of the Trade Dual bat/jersey #tt-122 #d 210/250
2004 Prime Cuts II Timelines MVP triple jersey autograph TL-78 #d 1/1
Hockey GameUsed
2000/01 Crown Royale Valeri Bure Jersey Patch 4 color (white,black,gold,red) 2 #d 114/145
2000/01 Crown Royale Byron Dafoe Jersey Patch 2 color (copper/black) 1 #d 137/141
2000/01 Crown Royale Peter Forsberg Jersy PATCH 2 color (white,blue) 6 #d 044/141
2000/01 Crown Royale Jamie Langenbrunner Jersey Patch 3 color (white, black, gold) 9 #D 006/143
2000/01 Crown Royale Chris Chelios Jersey Patch 2 color (white,red) 13 #d 190/192
2000/01 Crown Royale Jyrki Lumme Jersey Patch 2 colors (red,white-possibly from a name) 21 #d 131/144
2000/01 Crown Royale Martin Straka Jersey Patch 3 Color (black, white, gold) 23 #D 001/144
2000/01 Crown Royale Joe Nieuwendyk Jersey PATCH 2 colors (white,black) 12 #d 050/142
2000/01 Crown Royale Phil Housley Jersey Patch 2 colors (gold/red) 4 #d 117/144